"TALL TALE" WILLIE SHOW


"Tall Tale" Willie is looking for his feathery shipmate, "Rum Ball" Pete. Ye have to become a part of his pirate crew before ye can join in the search. Thar will be pirate trainin and tales to be heard when he comes to visit ye port. Although he not be a magician, magical things seem to happen when he be around. The stay for this teller of tales be approximately 30 minutes long.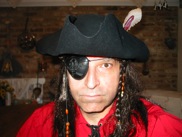 Copyright 2008 - Daniel S. Herman - All Rights Reserved

DOC PEPPLE'S TRAVELING SHOW



If laughter is the best medicine, Doc Pepple is the one to call. There are 3 different shows:
(1) "Dial Nine One Fun" - Some of Doc's friends have vanished, but the show must go on. Doc goes behind the scenes to bring some organization to this chaotic puppet variety show. (approximately 30 minutes long) NOTE: This show is performed by one person.
(2) "Charlie And His Friends" - A part of this show is educational, and the goal is to present information in an interesting way. Doc uses magic and music in this animal related show with an environmental theme. (approximately 30 minutes long) Two songs that were written by me are featured, "The Animals Got Dressed At The Zoo" and "I Hid The Elephant In My Bed". NOTE: This show is performed by one person.
(3) "The Works" - Doc brings his prescription for laughter to the stage. This one has it all - music, puppets, and a mascot sized character who is determined to be a part of it. (approximately 1 hour long) NOTE: This show is presented by a minimum of 5 cast members, and it requires a stage. The script for the show has been written, but the cast still has to be selected.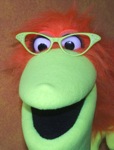 Doc Pepple (first photo) appears in all shows. Strumly (second photo), Mac (third photo), and Rosa (fourth photo) appear in Shows #1 & #3.



Nellie (first photo) and Junior (second photo - mascot version of puppet) appear in Show #3, and the Bobby Soxers (third photo) appear in Shows #1 & #3.
Copyright 1997, 2004, and 2007 - Dan Herman - All Rights Reserved




Sydney and Max appear in Show #1.
Orangutans A Copyright 2004 Axtell Expressions inc.



Special thanks to the following people for their work on my puppets:
(1) Verna Finly (Strumly, Nellie, and Junior)
(2) PJ's Puppets (Mac and Rosa)
(3) Puppets By Margie (Bobby Soxers)






The shows can be performed at corporate events, fundraisers, zoos, schools, libraries, museums, hospitals, churches etc. None of the shows will be performed in private residences. The shows are limited to locations in Sacramento County, California.






If you have any questions, you can send an e-mail to help@danhermanproductions.com